CoinSpeaker
LATOKEN Exceeds OKEX by not Bounced Monthly Traffic Volume
Thus, it is reported that LATOKEN's liquid exchange traffic is estimated to be about 1.73 million of hits per month when Okex's traffic is 1.54m. visits.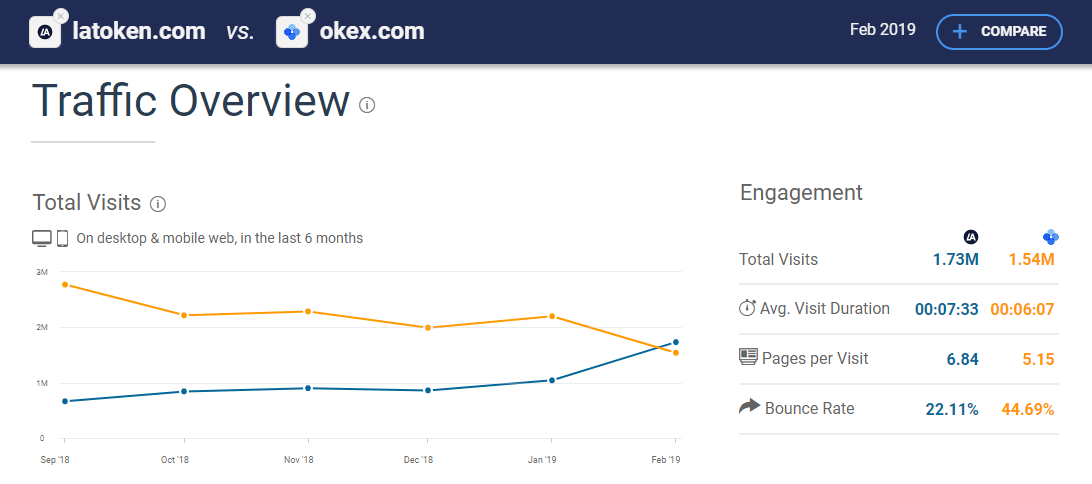 But it is much more important to measure not bounced visits. It is stated that LATOKEN's bounce rate is a bit more than 22% when bounce rate of Okex is almost 45%. Counting that it is possible to conclude that LATOKEN is almost two times ahead from Okex having 1.4m not bounced visits instead of Okex's 0.8m.
Valentin Preobrazhenskiy, CEO of LATOKEN, commented:
"LATOKEN's temptation is to be the most convenient and fast crypto exchange all over the world. The traffic growth of LATOKEN proves that we are becoming more and more popular among crypto traders worldwide. The level of our service will only increase as we are going to launch LADEX (Ethereum decentralized exchange) and LACHAIN (our own blockchain) soon."
LATOKEN Exceeds OKEX by not Bounced Monthly Traffic Volume
Cryptocurrency is a digital currency that uses encryption (cryptography) to regulate the generation of currency and verify the transfer of funds, independently of a central bank. Cryptography is the practice and study of techniques for secure communication in the presence of third party adversaries.
Blockchain 101 · Crytpo Currency Market
---------------------------------------------------
Trezor: Hardware Wallet
Binance: Exchange for Traders
Ledger Nano S: Hardware Wallet
Coinbase: Exchange for Investors
CoinSwitch: Wallet-to-Wallet Exchange