Coinspeaker
Ethereum Price Analysis: ETH/USD Approaching Resistance at $194
Key Highlights:
The Bulls are now fully in control of the Ethereum market;
price retracement is inevitable;
Ethereum price may further increase to $194 price level in case $186 level holds.
ETH/USD Medium-term Trend: Bullish
Supply Zones: $194, $201, $208
Demand Zones: $186, $178, $150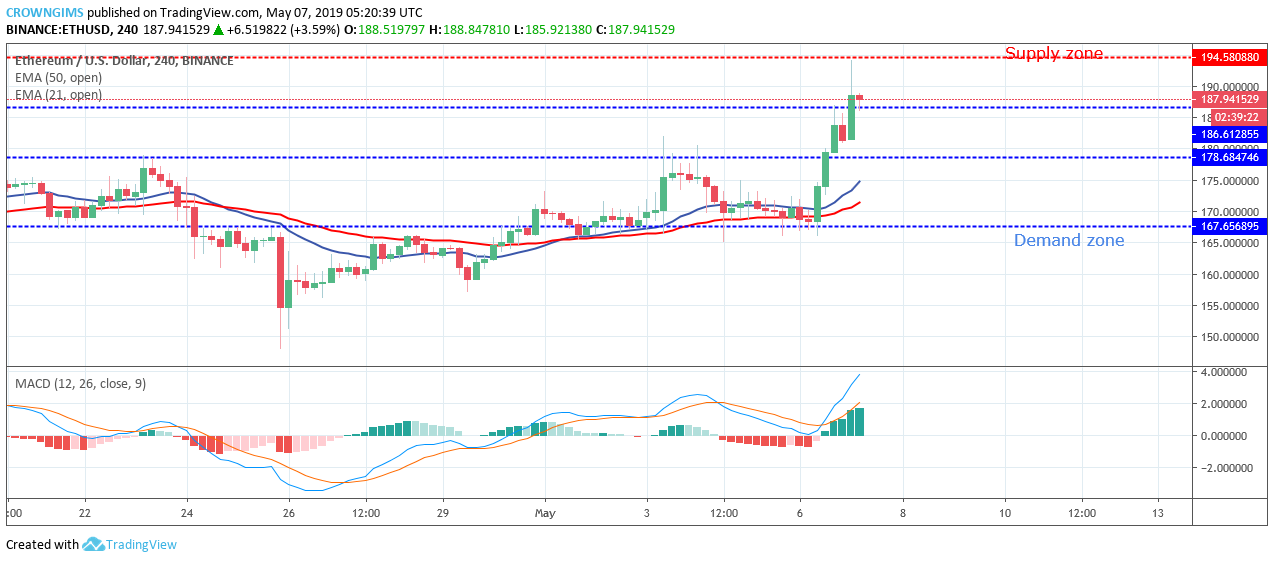 ETH is on the bullish trend on the medium-term outlook. Ethereum started a range-bound movement on April 30 within the $167 demand level and $178 price level. The sideways movement continues until yesterday (May 06).
The Bulls prevailed over the Bears by gaining more momentum than the Bears. Strong bullish candles emerged and broke up the $178 level and $187 level. The bullish momentum extended to the $194 before the Bears reacted to the price increase and Ethereum price was placed near $186 level.
The 21 periods EMAs and 50 periods EMA pointing up with Ethereum price trading above the two EMAs as a sign of a bullish trend. The Moving Average Convergence Divergence period 12 is above zero levels with its signal lines pointing up to indicate buy signal and continuation of Ethereum price increase.
The pullback is inevitable in a trending market and that is what Ethereum market is experiencing at the moment. In case the Bulls lose their momentum and the $187 level does not hold, the Bears will push the ETH price down to $178. However, a further increase in the Bulls' momentum may push up the price to break up $194 level and expose $201.
ETH/USD Short-term Trend: Bullish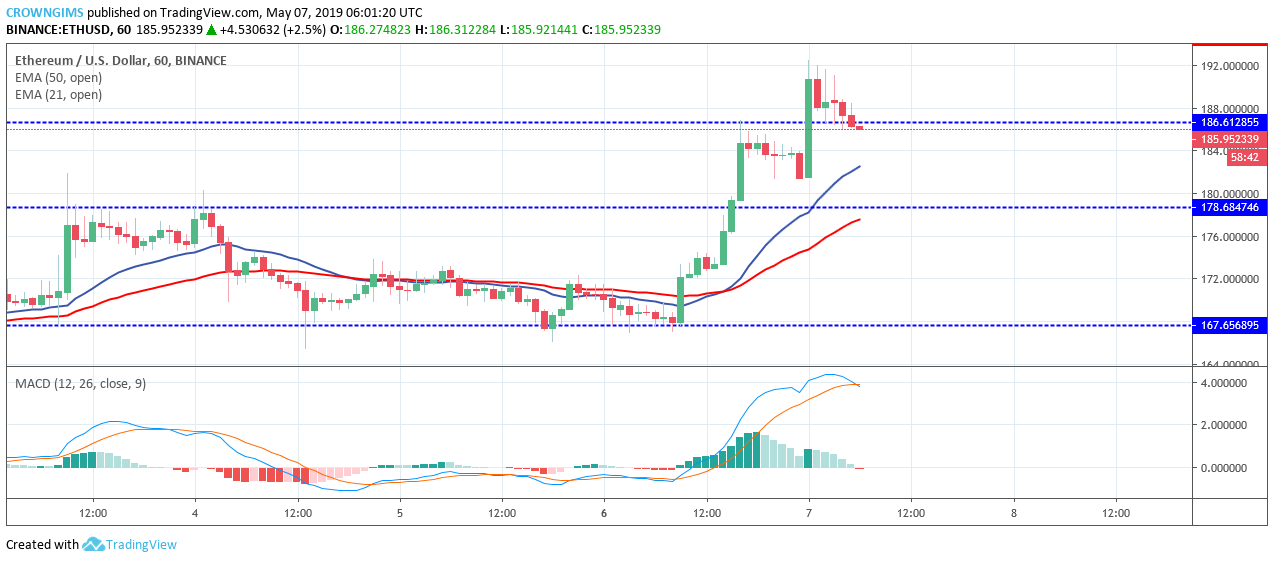 On the short-term outlook, ETH price is Bullish. The Bulls were fully in control of the Ethereum market. The bullish momentum that made ETH broke out from the ranging zone had a pause at $187 level after which it broke up the $178 level. Ethereum price pulled back before the Bulls gather momentum and broke up $187 level on May 06.
The MACD period 12 with its histogram is above zero levels and the signal lines making an attempt to bend down which may be a pullback.
Ethereum Price Analysis: ETH/USD Approaching Resistance at $194
Cryptocurrency is a digital currency that uses encryption (cryptography) to regulate the generation of currency and verify the transfer of funds, independently of a central bank. Cryptography is the practice and study of techniques for secure communication in the presence of third party adversaries.
Blockchain 101 · Crytpo Currency Market
---------------------------------------------------
Trezor: Hardware Wallet
Binance: Exchange for Traders
Ledger Nano S: Hardware Wallet
Coinbase: Exchange for Investors
CoinSwitch: Wallet-to-Wallet Exchange