Coinspeaker
XRP Price Analysis: XRP/USD Price Reversed Off Resistance at $0.46, Potential Drop
Key Highlights:
The Bulls are currently in control of XRP market;
XRP price may rise towards $0.50 price level;
the price is currently experiencing a pullback.
XRP/USD Price Medium-term Trend: Bullish
Supply levels: $0.46, $0.50, $0.54
Demand levels: $0.42, $0.39, $0.35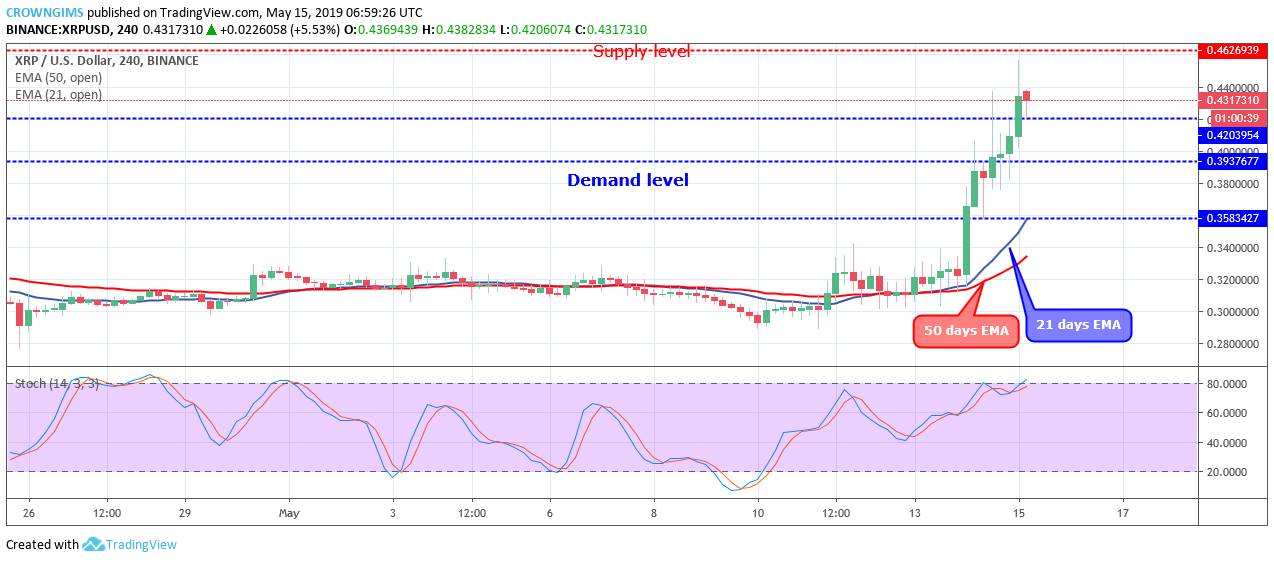 XRP/USD is bullish on the medium-term outlook. There was a long time consolidation in the market of XRP; which started on April 17 and ended on May 13. The Bulls came out of their shell with high momentum and a strong bullish candle emerged.
The Bull's momentum broke up the $0.35 level and pushed up the coin to reach $0.39 level. It observed a pullback at that level briefly. The Bulls gathered momentum again and $0.39, $0.42 levels were penetrated. Today, the price has reached $0.46 level.
Currently, the XRP price is experiencing retracement towards $0.42 by the Bears. The 21 periods EMA has crossed 50 periods EMA upside and the price is trading far above the two EMAs; this indicates the strong bullish momentum in the XRP market.
The Stochastic Oscillator period 14 is at 80 levels with the signal lines pointing up to indicate a further increase in the XRP price. There is a high probability that XRP price will increase further, should the Bulls maintain or increase their momentum, $0.46 level may be penetrated and the price targets $0.50 level. In case the Bears defend $0.46 level and their pressure increase, the price may pullback further to touch $0.39.
XRP/USD Price Short-term Trend: Bullish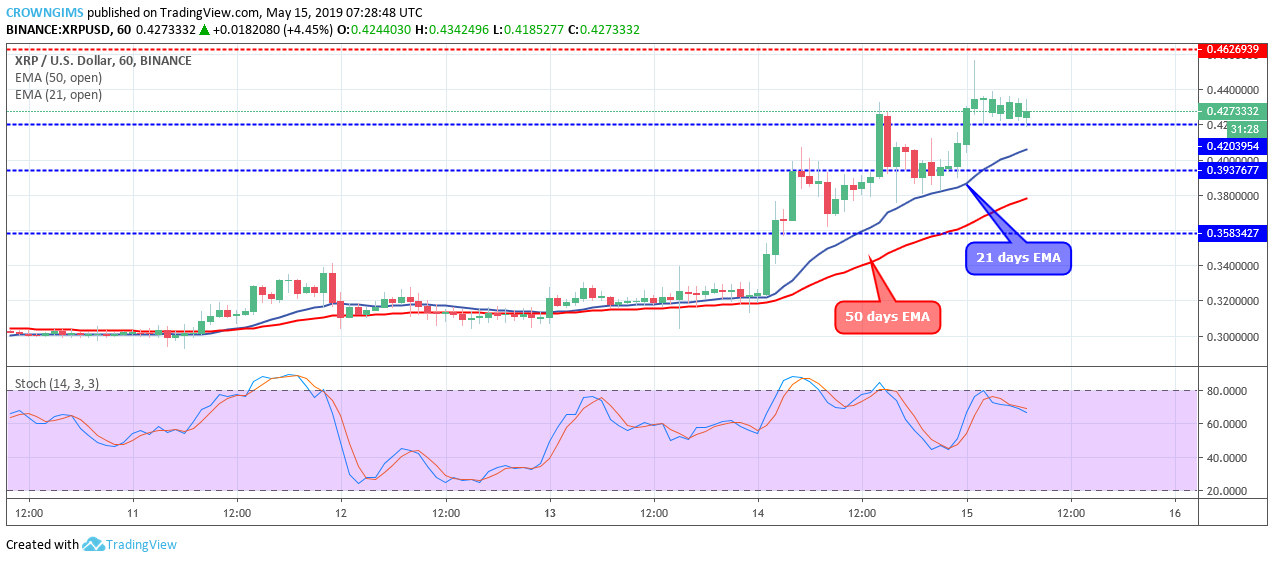 On the short-term outlook, XRP/USD is also bullish. The Bulls have taken over the control of XRP market after a long period of consolidation movement. The price is making higher highs movement on the 1-hour chart and the bullish momentum has placed the price to touch $0.46 level today. XRP was pushed back by the Bears and currently consolidating at $0.42 level.
XRP is trading above the two EMAs. The 21 periods EMA and 50 periods EMAs are well separated from each other bending towards the north side to indicate a strong buy signal.
XRP Price Analysis: XRP/USD Price Reversed Off Resistance at $0.46, Potential Drop
Cryptocurrency is a digital currency that uses encryption (cryptography) to regulate the generation of currency and verify the transfer of funds, independently of a central bank. Cryptography is the practice and study of techniques for secure communication in the presence of third party adversaries.
Blockchain 101 · Crytpo Currency Market
---------------------------------------------------
Trezor: Hardware Wallet
Binance: Exchange for Traders
Ledger Nano S: Hardware Wallet
Coinbase: Exchange for Investors
CoinSwitch: Wallet-to-Wallet Exchange